Ruby Lifecycle (EOL)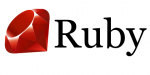 Below you can find the life cycle for each version of programming language Ruby, like Ruby 3.0, including release dates and end of life (EOL) dates.
A dynamic, object-oriented scripting language for developing websites and mobile apps, Ruby was designed to be simple and easy to write. It powers the Ruby on Rails (or Rails) framework, which is used on Scribd, GitHub, Groupon and Shopify. Like Python, Ruby is considered a fairly user-friendly language for beginners.
Product website:
https://www.ruby-lang.org
References